Collaborating in Community: Philanthropy's Role in Cultivating Equitable K-12 Learning Environments
In this special guest episode of 16:1, Katie and Chelsea are joined by Dr. Gisele C. Shorter, the Director of National Education Strategy at the Raikes Foundation, an organization with a mission to "[invest] in youth-serving institutions and systems to make them more effective in supporting and empowering all young people, especially those who have been most marginalized."
Dr. Shorter discusses her work at the intersection of philanthropy and building equitable learning environments in K-12 schools, a role through which she empowers educators, policymakers, grantmakers, schools, support orgs, and communities to center the student experience. The discussion ranges from topics of classroom instruction, funding, and the science of learning and development to the educational policy initiatives that bolster community engagement and drive student success. Gisele and the hosts also explore the processes of defining goals and outcomes and measuring success with partner schools and educators, undertakings that can be difficult against a challenging cultural and political backdrop.
The show concludes with a discussion of the ideal role of philanthropic partners in transforming educational experiences, a few questions about how Dr. Shorter sees her work evolving over the next decade, and a list of resources that she recommends for educators who are striving to build more equitable learning communities. Stick around for "What We Learned" if you're into trivia on transistors, maple syrup bottles, and a parting thought about doing the hard work of naming what's happening in our schools.
Meet Dr. Shorter: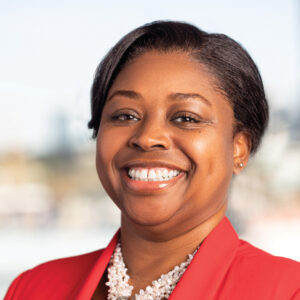 Dr. Gisele C. Shorter provides strategy, policy, impact scaling and fundraising consulting services to non-profits, coalitions and advocacy groups to help them expand their reach and strengthen their impact.
Gisele's career is rooted in a deep belief that an equitable society starts with an equitable education system. For 20 years, she has led large-scale community-based programs, research and policy initiatives to advance justice and equity, close health disparities, and ensure access and opportunities for Black and Brown youth and communities to flourish.
Dr. Shorter has led youth development, education and community-based organizations through programmatic resets, large-scale culture change initiatives and strategic re-engineering. In 2018 she was recruited to the Raikes Foundation to lead the K-12 School & System Redesign portfolio focused on a commitment to grow the foundation's impact and to advance justice and equity in the redesign of our national public education system by leveraging the science of learning and development.
The heartbeat of the K-12 portfolio is the Building Equitable Learning Environments (BELE) Network. Today she is responsible for impact and strategy coherence across the K-12, postsecondary, education fieldbuilding, and policy portfolios, as the Director of the National Education Strategy. She ensures grantmaking investments advance education policies and practices that support students furthest from educational justice, including those experiencing homelessness, foster care, and the justice system.
Gisele began her career in the private sector with leadership experiences including Volume.com, an AOL Time Warner company, where she was Head of Research and ESPN, Inc. where she was a Program Management Associate. She has successfully leveraged her private sector experience, community connections, and academic training to drive positive change on behalf of the most vulnerable youth and communities.
She is an adjunct professor and founding faculty member of the EdD in Leadership and Innovation degree program at NYU Steinhardt Department of Administration, Leadership, and Technology. She advises doctoral students on a wide range of complex problems of practice, from the role of philanthropy in China's evolving socio-political context to the role of district superintendents as agents for change.
Dr. Shorter earned her Ed.D. from Columbia University Teachers College. She holds an M.P.A. from Long Island University and a B.A. from Amherst College. She is a Pahara Aspen Fellow and member of the Aspen Global Leadership Network.
Sources + Resources:
Raikes Foundation – Introducing Gisele C. Shorter
Building Equitable Learning Environments Network
Centers for Disease Control and Prevention – Adverse Childhood Experiences (ACES)
Search Institute – The Developmental Relationships Framework
National Assessment of Educational Progress
Communities for Just Schools Fund
Council of Chief State School Officers
Collaborative for Academic, Social, and Emotional Learning (CASEL)
The School Superintendents Association
Resource Equity Funders Collaborative